In this article, I am here to tell you about the Top 5 Romance Anime that you will love to watch them. So, let's start this amazing blog.
5. Your Lie in April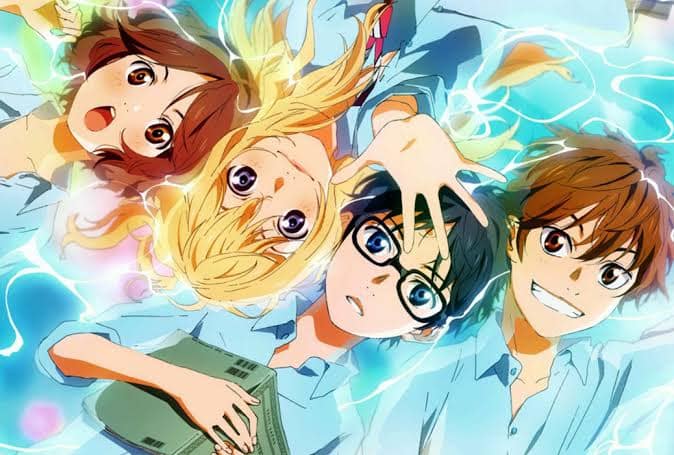 The Story Is About Kousei Arima is a child prodigy known as the "Human Metronome" for playing the piano with precision and perfection. Guided by a strict mother and rigorous training, Kousei dominates every competition he enters, earning the admiration of his musical peers and praise from audiences.
When his mother suddenly passes away, the subsequent trauma makes him unable to hear the sound of a piano, and he never takes the stage thereafter. Nowadays, Kousei lives a quiet and unassuming life as a junior high school student alongside his friends Tsubaki Sawabe and Ryouta Watari. While struggling to get over his mother's death, he continues to cling to music. His monochrome life turns upside down the day he encounters the eccentric violinist Kaori Miyazono, who thrusts him back into the spotlight as her accompanist. Through a little lie, these two young musicians grow closer together as Kaori tries to fill Kousei's world with color.
4. Rascal Does Not Dream of Bunny Girl Senpai
Number 4 in the list is "Rascal Does Not Dream Of Bunny Girl Senpai ". This anime has a total of 13 episodes and 1 movie.
The Story Is About A Boy Named Sakuta Azusagawa Who Fall in love With A Girl Wearing A Bunny Girl Costume In A library Named Mai Sakurajima. The Girl Mai Is Only Visible To Sakuto Due To A Adolescence Syndrome Which Is Spreading Among The Students Of Highschool.
The Sakuta Azusagawa Try To Help The Girls Who Are Fighting Through The Puberty Syndrome. And Sakuto Sister Name Kaede Is Also A Victim Of The Puberty Syndrome. She Is Afraid Of Going to School And Perhaps Outside. Although This Is A Very Good Anime To Watch You Can Give It A Try.
3. Tonikaku Kawaii
Number 3 In The List Is Tonikaku Kawaii. This Anime was broadcast On 3 October 2020. The Author Is Kenjiro Hata. This Anime Has A Total Of 12 Episodes And an OVA.
The Anime Is All About Nasa And His Wife Named Sukasa On Which They Start Living Together As A Husband And Wife And Create Some Wholesome And Romantic Moments. This Anime Is True Masterpiece If We Talk About Romance Category. You Can Give It A Try.
2. Teasing Master Takagi San
If We Talk About How The Anime Really Is This Is One Of The Best Teasing And Romantic Anime Of All Time. Even The Anime Doesn't Have A Single Kissing Scene Or Any Other Scenes. The Wholesome LevelOfThe Anime Is On Whole Another Level. You Can Definitely Put Your Time In It And This Will Going To Worth It.
UPDATE:- Days with My Step Sister Light Novel is getting an anime adaptation.
1. Shikimori Is Not Just A cutie
The Number One Anime on The List Is "Shikimori Is Not Just A Cutie ".
If We Talk About The Story A Boy Named Yuu Izumi Always Carry Bad Luck In Everything But He is very Kind And Nice, His Girlfriend Is Shikimori Who Always Stand By His Side And Protect Him. This Is Anime Going To Have A Total of 12 Episodes In Its 1st Season And We Can Hear About The Second Season After The Ending Of This Ongoing Season.