Finding the right anime movie to watch could be a tough challenge, especially when you are a beginner and don't know much about the anime world. If you have a friend who watches anime, then you can seek help from him and ask him to tell you the top 10 must-watch anime movies for beginners. But, anyway, if you don't have one, then I am here to help you. You know, finding the right anime movie is a little difficult, as there are a lot of movies out there. Today, I will suggest to you the Top 10 anime movies and you will be able to choose one that suits your taste.
The top 10 anime movie list will be including a lot of different genre movies from old ones to new ones. It is best for a beginner that is just entering in the anime world to start with movies rather than anime series as anime series takes a lot of time to finish and if you find them boring then it may lead to the loss in interest. The right anime movie can make you fall in love with anime and you can watch them whenever you are free.
If your friend is forcing you to watch anime like Naruto or One Piece and you are not interested so you can give a shot to the anime movies and then can decide further. The list that is mentioned below is based on my interest and research. So let's get into the list of Top 10 Must-Watch Anime Movies for Beginners.
1. Your Name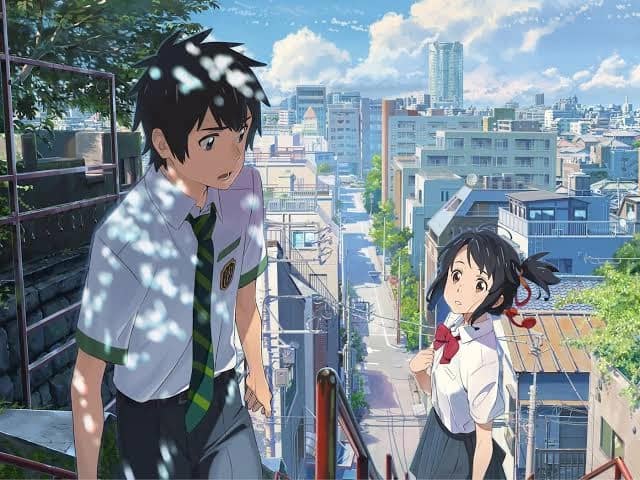 Your Name is for sure one of the best anime movies of all time. Every anime fan always includes Your Name in their top 5 anime movies of all time. Your Name was released on 2016 and it is a romantic fantasy film directed by one of the legendary director Makoto Shinkai. Almost every anime fan knows his name. You might see few more anime movies directed by him in this list today.
It is also one of the highest-grossing Japanese films of all time collecting over $382 million and was released in over 120 countries.
Your Name follows the story of two high school students, a girl named Mitsuha and a boy named Taki. They both lived in different places in Japan and have not met each other. One day, they suddenly started to swap their bodies and live each other's lives. Watch the full movie to find out what is happening further.
2. Weathering With You
Weathering with you is another fantastic movie, written and directed by Makoto Shinkai. It was released in 2019 and has a total box office collection of $193.8 million. It became highest grossing Japanese movie in 2019 and ranked at number 7 in all time. The move is 112 minutes long and music produced by Radwimps.
Weathering with you was also released in over 135+ countries. The plot of the anime movie is as follows:
Hodaka Morishima escaped Kōzu-Shima in order to get rid of his troublesome life in Tokyo. On his way in ferry, it got hit by a rainstorm and Keisuke Suga saved him. Not having a job and suffering from hunger, Hina Amano, an employee of McDonald's gave him free food. Later he finds out that the girl can control the weather and the story goes on. But a lot happens afterwards, watch movie to find it.
3. Spirited Away
Spirited Away was released in 2001 and became one of the most successful Japanese animated movie out here. It was written and directed by Hayao Miyazaki while Studio Ghibli animated it. Spirited Away has won the Academy Award for Best Animated Feature at the 75th Academy Awards in 2003. It is one of those movies which was drawn by hand in every single frame making it a great work of art. The length of the movie is 125 minutes.
Spirited Away has grossed over $395 million at the worldwide box office. It held the title for the highest-grossing Japanese movie for 19 years until Demon Slayer: Mugen Train surpassed it in 2020.
In Spirited Away, Chihiro Ogino (Hiiragi) enters the world of Kami while moving into a new neighborhood. Yubaba, is a witch who turned her parents into pigs. To return to the human world, Chihiro works in Yubaba's bathhouse to find a way to free herself and her parents.
4. A Silent Voice
It is animated drama film produced by Kyoto Animated while Naoko Yamada directed it and Reiko Yoshida written the storyline. In 2016, the movie was released. Worldwide box office collection of the movie is $31.6 million which is decent. Although it was not a blockbuster hit but was able to touch the heart of the people with its great storyline. I also have watched this movie and didn't find it emotional though I saw people saying that they cry while watching it. May be you might not be able to understand the depth as the movie is really very silent just as the title suggests.
It follows a story of a bully named Shoya Ishida who bullied Shouko Nishimayi, a girl with impaired hearing, mercilessly. As the problem increases he got transferred to another school. Years passed releasing his mistakes Shoya tries to make amends.
You might misunderstand the plot of the story as it covers a lot of social issues. The protagonist of the story is Shoya Ishida and it also follows his story of overcoming social anxiety.
5. Wolf Children
It is also a fine anime movie out here and to start your journey with. A 2012 anime drama movie animated by Studio Chizu. Mamoru Hosoda was the director and co-writer of the movie. The Worldwide box office collection of the Wolf Children is $55 million. The total run time of the movie is 117 minutes. The theme of the story is "parent and children".
It follows a story of a young college student Hana who falls in love with a werewolf. They later have two children, a boy named Ame and a girl named Yuki. While hunting for the food their father got killed accidentally and now it is up to the mother to raise the half wolf and half human children.
Suggested Article:- Top 10 Blue Lock Players: Market Values & Offer Club
6. Grave of the Fireflies
It is an animated war tragedy movie that was released on 1988 based on a 1967 short story by Akiyuki Nosaka. Isao Takahata directed the movie while Studio Ghibli animated it. The movie is not too long like others and only has a run time of 89 minutes.
If you don't have any issues with old animation then you can definitely give it a try. The plot of the story is as follows:
The story is set in the city of Kobe, Japan in June 1945. The story follows Setsuko and Seita, two orphaned siblings, who struggled to survive during the final months of the Second World War. This movie has been considered as one of the greatest war film of all time.
6. Akira
Akira is an animated cyberpunk action movie released on July 16, 1988. Based on Katsuhiro Otomo's 1982 manga of the same name, it was directed by Otomo, produced by Suzuki and Katou, and written by Otomo and Izo. The total box office collection of the movie is $49 million. The total run time of the movie is 124 minutes.
It follows the story of Shōtarō Kaneda, a leader of a biker gang, and the story is set in dystopian 2019. His aim is to save his friend, Tetsuo from a government project. Despite anti-government activists, greedy politicians, irresponsible scientists, and a powerful military leader, Kaneda battles until Tetsuo's supernatural powers appear. There is a final battle during the Tokyo Olympiad that exposes the secrets of the experiment.
7. Princess Mononoke
Princess Mononoke is a Japanese animated history fantasy film which was released in July 12,.1997 and has a run time of 133 minutes. Animation production of the movie is done by Studio Ghibli while the movie was written and directed by Hayao Miyazaki. The total box office collection of the movie is $169.7 million which made it highest grossing movie of 1997 and it held the title until Spirited Away of 2001 broke it which is another masterpiece from Miyazaki.
The story is set in late Muromachi period (approximately 1336 to 1573 CE), and revolves around Emishi prince named Ashitaka. An animal attack infects young Ashitaka, who seeks a cure from the deer-like god Shishigami. For seeking a cure he is forced to leave his village and follows the path of forest which is inhabited by animal gods. There he discovers himself in the midst of the fight between animal gods and a village led by Lady Eboshi.
8. Ponyo
Another masterpiece from Hayao Miyazaki, Ponyo was released on July 19, 2008, is an animated fantasy film. As with his other movies Ponyo has also animated by Studio Ghibli. When it comes to run time it's 101 minutes long. The movie grossed $204.8 million in worldwide box office collection while the budget of the movie was $34 million. It also make it 5th highest grossing anime movie of all time.
Ponyo, a goldfish who escaped the ocean gets washed ashore while getting trapped in a glass jar. She is rescued by five-year-old boy, Sōsuke. As their bond becomes stronger the movie shows Ponyo's will to become a human girl. She got magical powers by licking blood of Sōsuke that grants her to grow legs and become one like that of human. Watch the full movie to know what happens next.
9. I Want To Eat Your Pancreas
The movie was released on July 24, 2018, and is animated by Studio VOLN. It is written and directed by Shinichiro Ushijima. The movie is based on the light novel of the same name as of movie by Yoru Sumino. The box office collection of the movie is $6.2 million. It has a run time of 108 minutes. This movie is a little emotional so it might bring tears to your eyes.
An un-named high school student gets to know about a fatal illness in the pancreas of his classmate, Sakura Yamauchi. He came to know about this when he accidentally come across a diary while waiting in a hospital room. In spite of her illness, Sakura is positive about her life and wants to live it to the fullest. Later they both became friends and spend a lot of time together.
10. My Neighbour Totoro
It is the 4th movie from Hayao Miyazaki in our list of Top 10 Must-Watch Anime Movies for Beginners. It was released on April 16, 1988, and has a run time of 86 minutes. The total box office collection of the movie is $41 million. It is animated by Studio Ghibli and Hayao Miyazaki written and directed it.
They live in an old country house with their father awaiting the recovery of their mother, who is recovering from an illness in an area hospital. A gigantic cuddly creature known as Totoro greets the sisters as they explore their new home and nearby forest, a house and forest that have been filled with playful spirits.
Source:- Wikipedia