Are you one of those guys who are looking for Sony Yay's TRP after the Naruto show aired on TV a few weeks ago? If yes, then you are in the right place.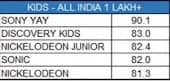 UPDATE! Kids Channel Week 33 TRP is out now! Sony Yay! is at the top of the list. But now, the question is it because of Naruto?
Well, Sony Yay is no. 1 kid channel in India and for many weeks its TRP is on Top. So, we can't say its TRP got boosted by it. But Recently, 1.5% of kids' show viewers increased in a few weeks and only one show is released a few weeks ago that is Naruto. So, maybe that 1.5% growth is because of it.
The show will probably have the highest TRP among all shows airing on their channel. I think most people have already watched it in English Dub or in English Sub but are re-watching it again. This is because Naruto is one of the 'Big 3' of anime and we are watching it in Hindi Dub to support them.
Related:- Dragon Ball Super: Super Hero Film Reveals Hindi Dub Cast and Date !
Effects of Naruto Show on Kids
Kids enjoy Naruto since he is a mischievous boy just like them. After watching it, they will get motivation to reach their goals just like Naruto. To make the show less violent, they changed the color of the blood from red to green and blurred some parts.
Voice actor of Zabuza Naruto Hindi Dub
It is Vallabh Bhingarde who plays the voice of Zabuza in Hindi Dub. When you hear Zabuza's voice in Hindi Dub, it is almost identical to that of Zabuza in English Dub. When you hear Zabuza's voice in Hindi Dub, you will get goosebumps because the voice is the same as in the English dub, but the voice actor is not the same.
Cast of Naruto Hindi Dub
Mohit Sinha as Kakashi Hatake
Rajesh Kava as Sasuke Uchiha
Vallabh Bhingarde as Zabuza
We are now on Google News.