On Monday REDICE Studio sadly reported to the world that the beloved creator and illustrator of the solo leveling manhwa Jang Sung-Rak AKA DUBU passed away on the 23rd of July. Brain hemorrhage is the reason for his death.
A private funeral was held at his mother's residence with family members and close friends.
The studio thanked the readers for all the love and support for the solo leveling manhwa. And also asked everyone to pray for Mr. Jang to rest in a better place.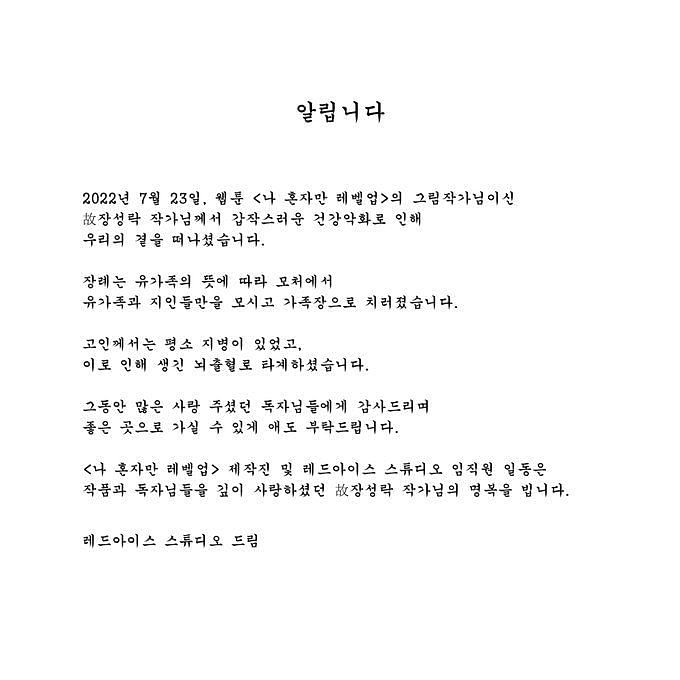 DUBU was the CEO of REDICE Studio, a Korean studio that produced Webtoon adaptations of novels.
Solo leveling series is getting an anime adaptation by A-1 Pictures on Crunchyroll in 2023. This manhwa launched on Webtoon services in March 2018 and ended in December 2021. Later, Yen Press publishes the manhwa and original novel series in English. 
UPDATE:- Netflix is going to release the Tekken bloodline series in India
Plot of the Manhwa
In a world where hunters – humans are the beings who possess magical power — must battle deadly and dangerous monsters to protect the human race from certain annihilation.
A weak hunter named Sung Jinwoo finds himself in an endless like struggle for survival.
One day, after narrowly surviving an overwhelmingly powerful double dungeon that nearly wipes out his entire party, a mysterious program called the System chooses him as its sole player and in turn, gives him the extremely rare ability to level up in strength, possibly beyond any known limits. Jinwoo then sets out on a journey as he fights against all kinds of enemies, both man and monster, to discover the secrets of the dungeons and the real source of his powers.